The earthquake in Japan was a devastating event both economically and socially for their country. It also affects the rest of the world, including the United States as well.
1) One result of this disaster, is that we will see car prices going up. Cars that were ready to be exported are seen below.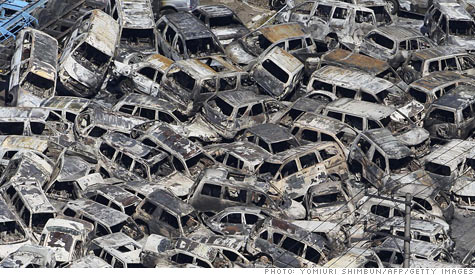 Source: Getty Images
2) Questions are being raised on the US's future in nuclear energy. Speculation is being put upon the nuclear industry as a result of the earthquake and the radiation that has been leaking from the plant, no matter how much.
3) With Haiti, Chile, and New Zealand earthquakes coming previously, there is potential for a similar earthquake in the US. As Obama has said, the United States needs to learn from this disaster and implement our own safety plan.

Nuclear energy remains a viable means of energy, however disasters such as the one in Japan scare the public.